A 2200-ton destroyer sends up its own share of flack above the landing area at Mindoro Island on 18 December 1944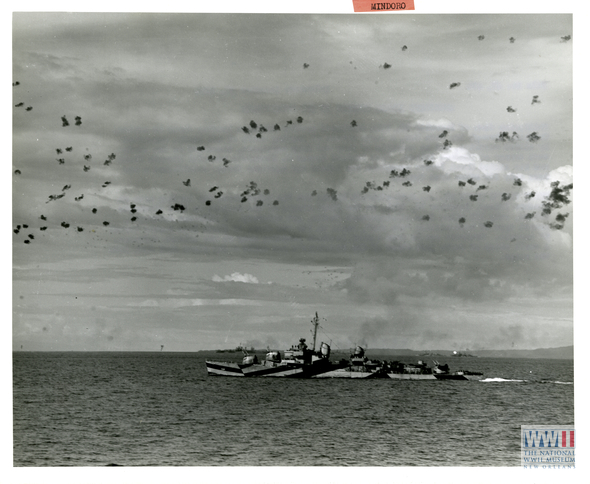 U.S. Navy Official photograph, Gift of Charles Ives, from the collection of The National World War II Museum
Description:
591. Photograph "File No: 47,470 Released: December 31, 1944 American invade Mindoro in the Philippines— Philippine dawn of December 18, 1944 disclosed another American landing force in action. Creeping through the Sulu Sea, a large armada of landing craft of all kinds, supported by allied warships, and an umbrella of Navy and Army warplanes, converged on the south-west corner of Mindoro Island. Vice Admiral Thomas A. KinKaid's powerful Seventh Fleet and his Allied Naval Forces assaulted the island and American forces established a new base only 120 miles from Manila. Enemy planes overhead. . . . . . . Anti-aircraft bursts dot the skies above the landing area at Mindoro Island, December 18, 1944, as the first stages of the assault on that strategic island, only 120 miles from all-important Manila, get underway. A 2200-ton destroyer, newest type of hard hitting 'tin can', sends up its own share of flack from double barrel 5" turrets. Cruisers can be seen closer in-shore pounding a the islands defenses. A small whisp of smoke just ahead of the destroyer's bow marks a Jap plane shot down into the water." 18 December 1944
Image Information
Theater of Service:
Pacific Theater of Operations
Topical Subjects:
Warships--American--Mindoro
Bombardment--Philippines
Bombardment--Mindoro
Collection Level:
The Charles Ives Collection consists of 719 photographs from the Pacific Theater of WWII. Many of the photographs were taken between 1944 and 1945. Mr. Ives inherited the photographs from a friend from Marblehead, Massachusetts who served as an aviator in the Army Air Corps and discharged as a Major in 1945.