Along with Army troops, members of a U. S. Navy beach battalion dig in for their first night ashore in France in June 1944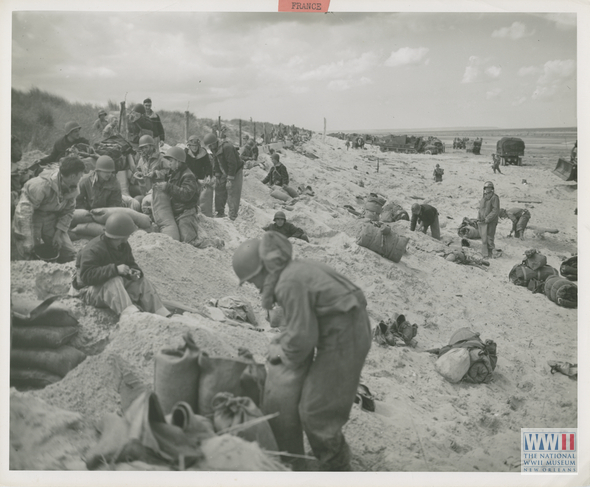 U.S. Navy Official photograph, Gift of Charles Ives, from the collection of The National World War II Museum
Description:
471. Photograph. "File No: 59413 June 9, 1944 Navy Goes Ashore in France—'Hitting the beach' along with Army troops, members of a U. S. Navy beach battalion dig in for their first night ashore on a beachhead on the French coast." 9 June 1944
Image Information
Theater of Service:
European Theater of Operations
Topical Subjects:
Soldiers--American--France
Beaches--France
Military vehicles--American--France
Foxholes--France
Collection Level:
The Charles Ives Collection consists of 719 photographs from the Pacific Theater of WWII. Many of the photographs were taken between 1944 and 1945. Mr. Ives inherited the photographs from a friend from Marblehead, Massachusetts who served as an aviator in the Army Air Corps and discharged as a Major in 1945.