Ambulances land with troops during maneuvers in England in May 1944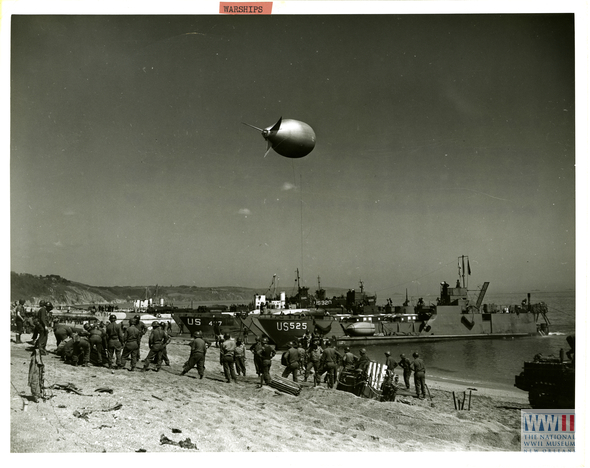 U.S. Navy Official photograph, Gift of Charles Ives, from the collection of The National World War II Museum
Description:
233. Photograph. "File No. 231,232. June 6, 1944. Ambulances land with troops--- Roaring ashore in the outer bastions of Fortress Europe today, just as they did in this picture taken during maneuvers in England, are Army ambulances, equipped to give first aid to wounded. Plainly marked with the world known Red Cross, these 'mercy-vans' are fast and rugged, will rush casualties back to ships for more detailed medical treatment or a fast voyage back to English hospitals." May 1944
Image Information
Theater of Service:
European Theater of Operations
Topical Subjects:
Barrage balloons--American--England
Landing craft--American--England
Soldiers--American--England
Beaches--England
Ambulances--American--England
Warships--American--England
Military training--England
Collection Level:
The Charles Ives Collection consists of 719 photographs from the Pacific Theater of WWII. Many of the photographs were taken between 1944 and 1945. Mr. Ives inherited the photographs from a friend from Marblehead, Massachusetts who served as an aviator in the Army Air Corps and discharged as a Major in 1945.