A breakwater created by a line of sunken ships adjacent to the U.S. Mulberry off Coleville, France in October 1944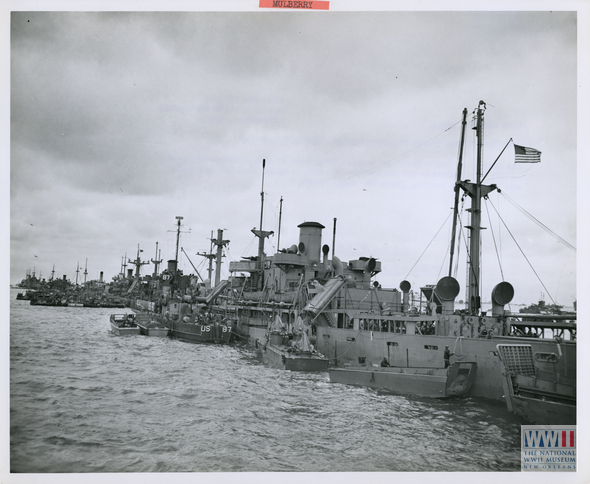 U.S. Navy Official photograph, Gift of Charles Ives, from the collection of The National World War II Museum
Description:
156. Photograph. Mulberry; Several small landing craft –LCVP, LCM at sea. "File Number 46818. October 23, 1944. 'Mulberry' the secret floating harbor, Normandy landings. One sector of the breakwater created by a line of sunken ships adjacent to the U.S. Mulberry off Colleville, France. A major role of this line was to offer a mooring place for small craft." Normandy, France. 23 October 1944
Image Information
Theater of Service:
European Theater of Operations
Topical Subjects:
Landing craft--American--France
Warships--American--France
Military tactics
Flags--American
Collection Level:
The Charles Ives Collection consists of 719 photographs from the Pacific Theater of WWII. Many of the photographs were taken between 1944 and 1945. Mr. Ives inherited the photographs from a friend from Marblehead, Massachusetts who served as an aviator in the Army Air Corps and discharged as a Major in 1945.