A camouflage truckexits the ramp of an LST in the Solomon Islands in February 1944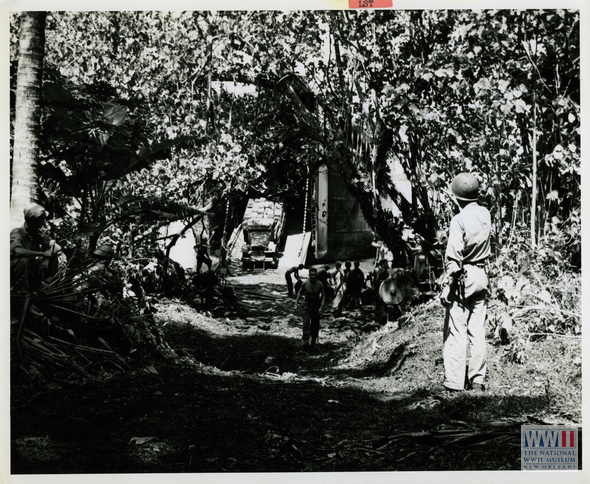 U.S. Navy Official photograph, Gift of Charles Ives, from the collection of The National World War II Museum
Description:
272. "Photograph. "March 13, 1945 Amphibious picture story—Allies seize Green Island—In a move of strategical brilliance, high-lighted by Gen. Douglas MacArthur's comment—'this completes the campaign for the Solomon Islands.' American and New Zealand forces covered by ships of the U. S. Navy on February 16, 1944, landed and occupied the Green, or Nissan Islands just north of Bougainville. Overrunning the Jap defenses against negligible opposition, the Allied troops thereby sealed off the neck of a steel 'noose' wherein some 22,000 Japs await death or surrender. In these official U. S. Navy Photographs the progress of the operations is recorded from the preparations for the venture to the swift advance of the victors over the terrain of the former Jap island base. (7) Carefully-prepared camouflage makes this truck look as though it were coming down out of a tree, instead of the ramp of an LST (Landing Ships Tank). It was only one of the many vehicles which labored incessantly first landing to unload all supplies before athe expected counter-attack. The later never materialized." 13 March 1945
Image Information
Theater of Service:
Pacific Theater of Operations
Topical Subjects:
Landing craft--American--Solomon Islands
Military vehicles--American--Solomon Islands
Soldiers--American--Solomon Islands
Collection Level:
The Charles Ives Collection consists of 719 photographs from the Pacific Theater of WWII. Many of the photographs were taken between 1944 and 1945. Mr. Ives inherited the photographs from a friend from Marblehead, Massachusetts who served as an aviator in the Army Air Corps and discharged as a Major in 1945.