A floating highway of pontoon sections leads from an LST to the shores of Kwajalein atoll in the Marshalls on January 31 – February 2, 1944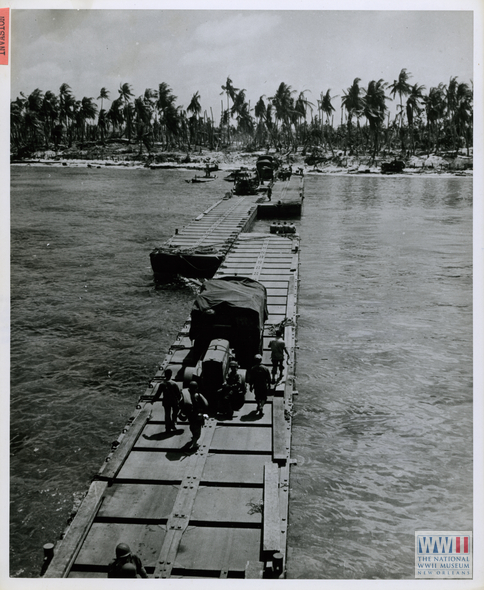 U.S. Navy Official photograph, Gift of Charles Ives, from the collection of The National World War II Museum
Description:
267. Photograph. "File No: 217206 March 28, 1944 Avenue of invasion-- The floating highway constructed of pontoon sections leads from the LST (Landing Ship Tank) aboard which the cameraman was stationed to the shores of Kwajalein atoll in the Marshalls. Over it flowed an irresistible stream of material for the conquest of the Jap [Japanese] base, January 31 – February 2, 1944. Portable roadways like this have implemented many of the Allies amphibious invasions in the war." 28 March 1944
Image Information
Theater of Service:
Pacific Theater of Operations
Topical Subjects:
Pontoon bridges--Marshall Islands
Soldiers--American--Marshall Islands
Military vehicles--American--Marshall Islands
Palms--Marshall Islands
Beaches--Marshall Islands
Collection Level:
The Charles Ives Collection consists of 719 photographs from the Pacific Theater of WWII. Many of the photographs were taken between 1944 and 1945. Mr. Ives inherited the photographs from a friend from Marblehead, Massachusetts who served as an aviator in the Army Air Corps and discharged as a Major in 1945.