A G.I. marks a map with landing sites at Guadalcanal in 1944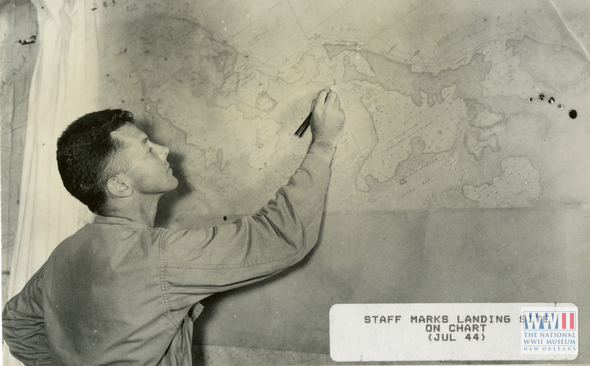 U.S. Army Signal Corps photograph, Gift of Donald E. Mittelstaedt, from the collection of the National WWII Museum
Description:
From Volume 1: South Pacific Theater. A G.I. marks a map with landing sites. "Staff marks landing site on chart (Jul 44)." Guadalcanal. 1944
Image Information
Theater of Service:
Pacific Theater of Operations
Unit:
161st Signal Photo Company
Topical Subjects:
Soldiers--American--Guadalcanal
Maps--Guadalcanal
Collection Level:
Items from the service of Donald E. Mittelstaedt, consisting of photographs of the 161st Signal Photographic Company Combat Unit #10 which served on Espiritu Santos, Guadalcanal, New Britain, New Guinea, Noemfor, Leyte, Samar and Luzon.