A line of Phoenixes stretches across a sector of a mulberry at Omaha Beach off Collesville, France in June 1944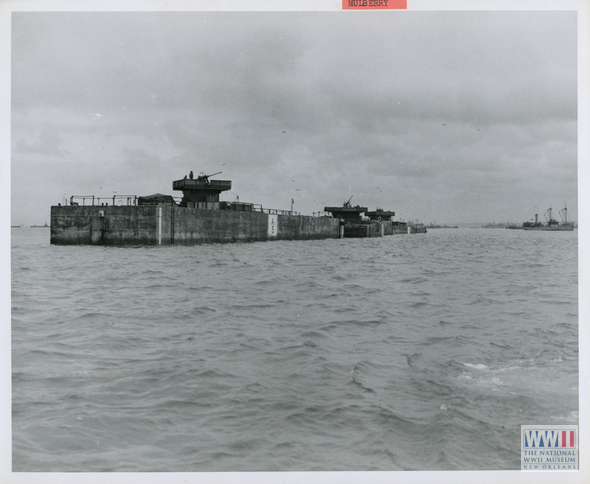 U.S. Navy Official photograph, Gift of Charles Ives, from the collection of The National World War II Museum
Description:
166. Photograph. "File Number 46831. October 23, 1944. 'Mulberry'--- the secret floating harbor, Normandy Landings Reassembling a floating fortress, a line of Phoenixes stretches across a sector of the U. S. Mulberry at Omaha Beach off Colleville, France. Anti-aircraft guns bristle on the crest of the 'sea wall.'"23 October 1944
Image Information
Theater of Service:
European Theater of Operations
Topical Subjects:
Antiaircraft guns--American--France
Landing craft--American--France
Piers & wharves--France
Gun turrets--American
Soldiers--American--France
Collection Level:
The Charles Ives Collection consists of 719 photographs from the Pacific Theater of WWII. Many of the photographs were taken between 1944 and 1945. Mr. Ives inherited the photographs from a friend from Marblehead, Massachusetts who served as an aviator in the Army Air Corps and discharged as a Major in 1945.