A mammoth U.S. Navy battleship hurls its fire against Iwo Jima on 19 February 1945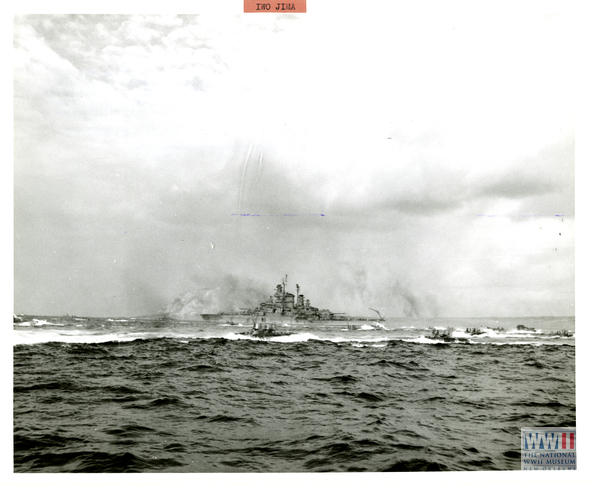 U.S. Navy Official photograph, Gift of Charles Ives, from the collection of The National World War II Museum
Description:
575. Photograph "File Number: 304779 Released: March 14, 1945 Assault on Iwo Jima—Grim milestones on the Tokyo road, the attack on Iwo Jima was a complex and highly-coordinated operation involving exact planning for hundreds of ships and planes and thousands of men. So exact was the timetable, the Marines hit the beach only seconds off the hour chosen at the strategy board long before the operation. The Japs fought bitterly from near invulnerable positions, and the Marines paid a high cost; but from the moment of the opening bombardment, the battle rolled relentlessly on according to plan. Gray against the gray sea and sky, a mammoth Navy battleship hurls its obliterating fire against volcanic Iwo Jima. The time: morning of D-Day, February 19, 1945." 19 February 1945
Image Information
Theater of Service:
Pacific Theater of Operations
Topical Subjects:
Battleships--American--Iwo Jima
Landing craft--American--Iwo Jima
Mountains--Iwo Jima
Collection Level:
The Charles Ives Collection consists of 719 photographs from the Pacific Theater of WWII. Many of the photographs were taken between 1944 and 1945. Mr. Ives inherited the photographs from a friend from Marblehead, Massachusetts who served as an aviator in the Army Air Corps and discharged as a Major in 1945.