A Navy gun frowns protectively over other ships of the convoy astern enroute to Hollandia on 22 April 1944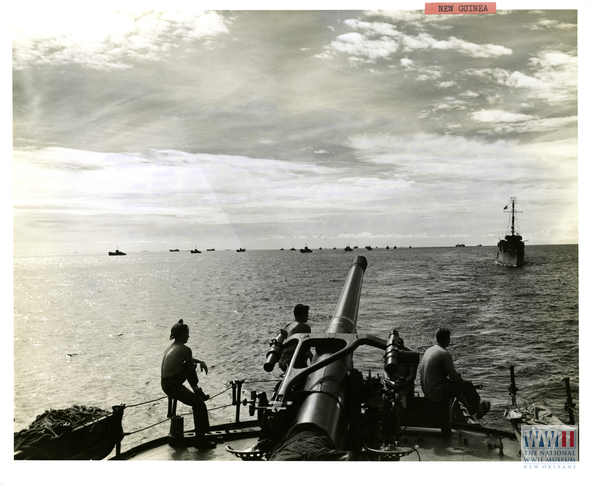 U.S. Navy Official photograph, Gift of Charles Ives, from the collection of The National World War II Museum
Description:
600. Photograph "File No: 251091 Released: May 13, 1944 Army-Navy 'One-Two' Punch Neutralizes New Guinea—Climaxing a three weeks 1,500-to aerial bombardment, thousands of American troops landed on Netherland New Guinea in three sectors on April 22, 1944, thus cutting off an estimated 60,000 Jap soldiers defending the Pacific island. These official U. S. Navy photographs depict the landing at Humboldt bay, where one invading force found little Jap opposition, moved quickly inland to seize coastal airfields. Giant bulldozers and trucks followed the first wave in, to renovate the fields after their capture. Enroute to Hollandia. . . a big Navy gun frowns protectively over other ships of the convoy astern." 22 April 1944
Image Information
Theater of Service:
Pacific Theater of Operations
Topical Subjects:
Artillery (Weaponry)--American--New Guinea
Arms & armament--American--New Guinea
Sailors--American--New Guinea
Warships--American--New Guinea
Landing craft--American--New Guinea
Collection Level:
The Charles Ives Collection consists of 719 photographs from the Pacific Theater of WWII. Many of the photographs were taken between 1944 and 1945. Mr. Ives inherited the photographs from a friend from Marblehead, Massachusetts who served as an aviator in the Army Air Corps and discharged as a Major in 1945.