African American army musicians and Italian girl look at sheet music by Puccini in Italy on 10 December 1944.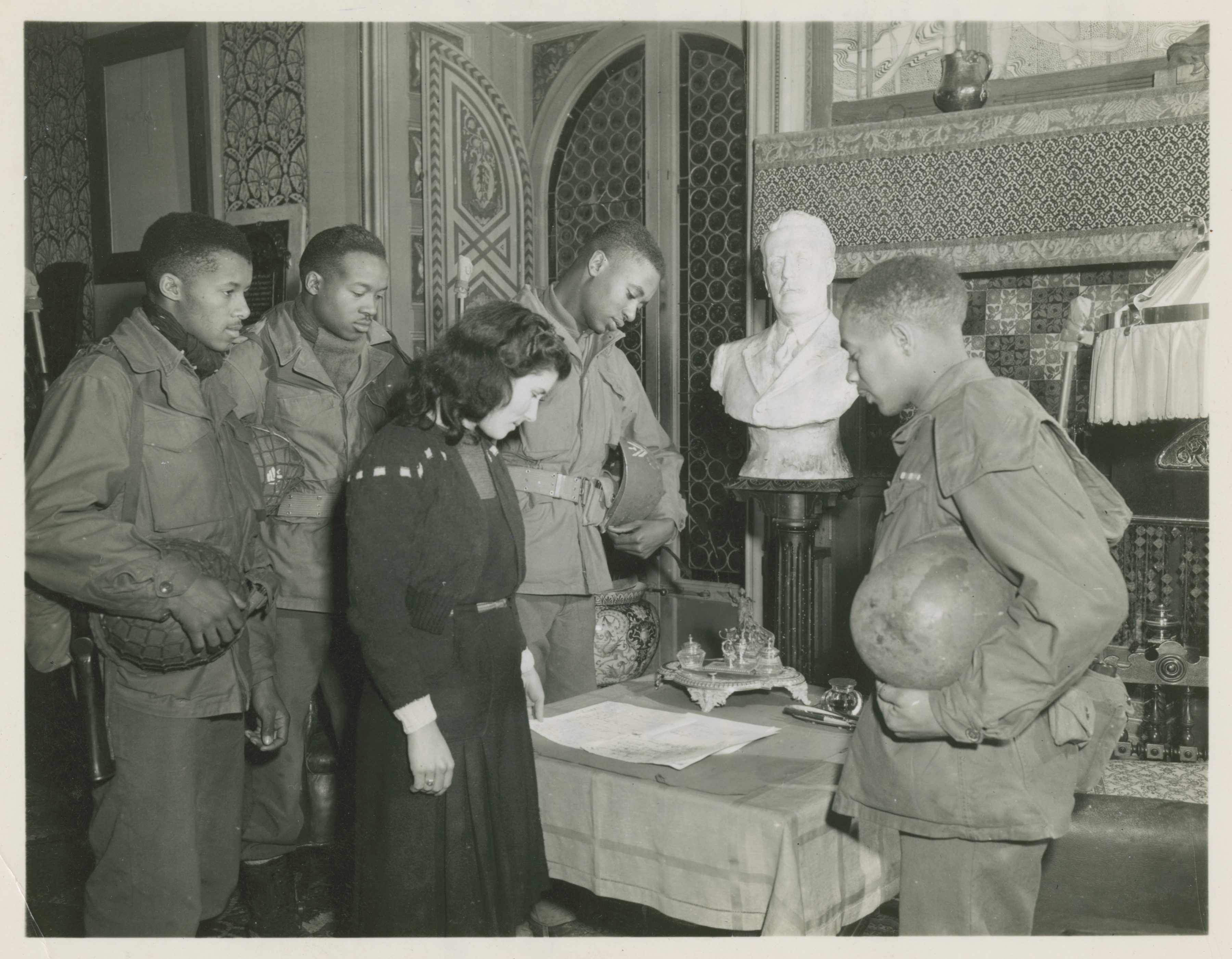 U.S. Army Signal Corp photograph, Gift in Memory of William F. Caddell, Sr., from the Collection of The National World War II Museum
Description:
10.Photograph. Four African American army musicians looking at sheet music by the Italian composer Giacomo Puccini. '10 Dec 44. 5/MM-44-31396. Fifth Army, Torre Del Lago Puccini, Italy. A group of four talented American soldier musicians, members of the 92nd Division Orchestra, escorted by a youthful Italian girl, are looking at music scores by Giacomo Puccini, Italy's famous composer, during their visit to the Puccini shrine and tomb. L-R: Pfc. Henry O. Penn and his brother T/4 Marshall M. Penn, both from 1017 Oakland Ave., Ann Arbor, Mich.[Michigan]; T/5 Samuel C. Hicks, Jr., 708 W. Marquette Ave., Albuquerque, N. Mex. [New Mexico]; and Pfc. Henry H. Rosser, 130 Louisiana Ave., Trenton, N.J. [New Jersey]. Photo by Yaskell. 3131 Signal Service Co.' Torre Del Lago, Italy. 10 December 1944
Image Information
Collection Level:
Signal Corps photographs from the service of William F. Caddell, Sr. taken from the Fall of Rome through the end of the war.
Thesaurus for Graphic Materials:
Soldiers--American--Italy
Composers--Italy
Sightseers--American--Italy