American soldiers attacking Japanese pillbox, Okinawa Island, Japan, 1945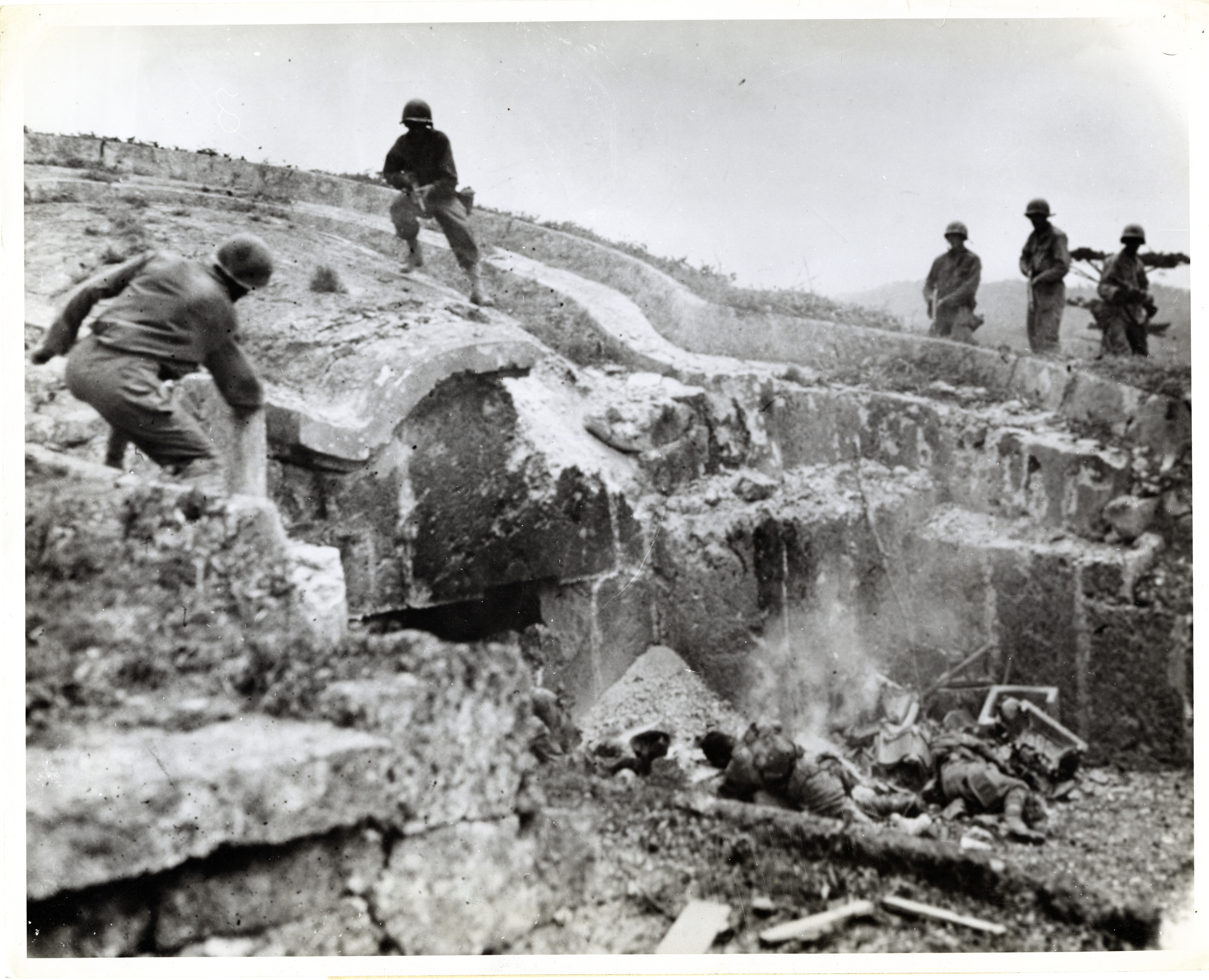 Description:
Photograph. American soldiers stand by with their rifles as another soldier throws a grenade into Japanese pillbox; the bodies of dead Japanese soldiers are visible. Official Caption: "Rome. 6/5/45--Americans wipe out Japanese pillbox--Soldiers of the U.S. Tenth Army stand guard with their rifles as one of their comrades (left) prepares to toss another hand grenade into the debris of an Okinawa tomb used by the Japanese as a pillbox during operations on the main Ryukyu (Loochoo) Island. Dead Japanese lie in front of the tomb, which is constructed of thick concrete. Units of the Tenth Army landing on Okinawa on March 31, 1945, have broken the enemy's southern defense line extending from Haha through Shuri to Yonabaru, and-- by June 4--had opened vast Nakagusuku Bay, off the eastern coast, to American shipping. Meanwhile U.S. Third Fleet carrier aircraft, newly assigned to the Ryukyus campaign, smashed sharply at Kyushu Airfields.--FA Photo—Serviced by Rome. OWI (A List Out). Approved by appropriate military authority. 6581." Ryukyu (Loochoo) Island, Okinawa, Japan. 5 June 1945
Image Information
Collection Level:
Items from the service of Isaac "Ike" Bethel Utley, who was born in Smith Mills, Kentucky on 3 March 1920. Ike enlisted in the Army Air Corps on 19 January 1942. He was shipped overseas to the European Theatre and worked with a supply division based out of the city of Naples with an office set up in a residential villa. Utley worked with the Office of War Information and used their photographs in news articles to inform soldiers of the progress of the war. At war's end, Utley returned stateside. A trunk full of over 800 photographs from the O.W.I. arrived on his doorstep from his office in Italy, sender unknown. This collection consists of those photographs.
Thesaurus for Graphic Materials:
Soldiers--American--Okinawa
Forts & fortifications--Japanese--Okinawa
Grenades--Okinawa
Dead persons--Okinawa
Soldiers--Japanese--Okinawa