Destroyed German vehicles lining a road, France, 1944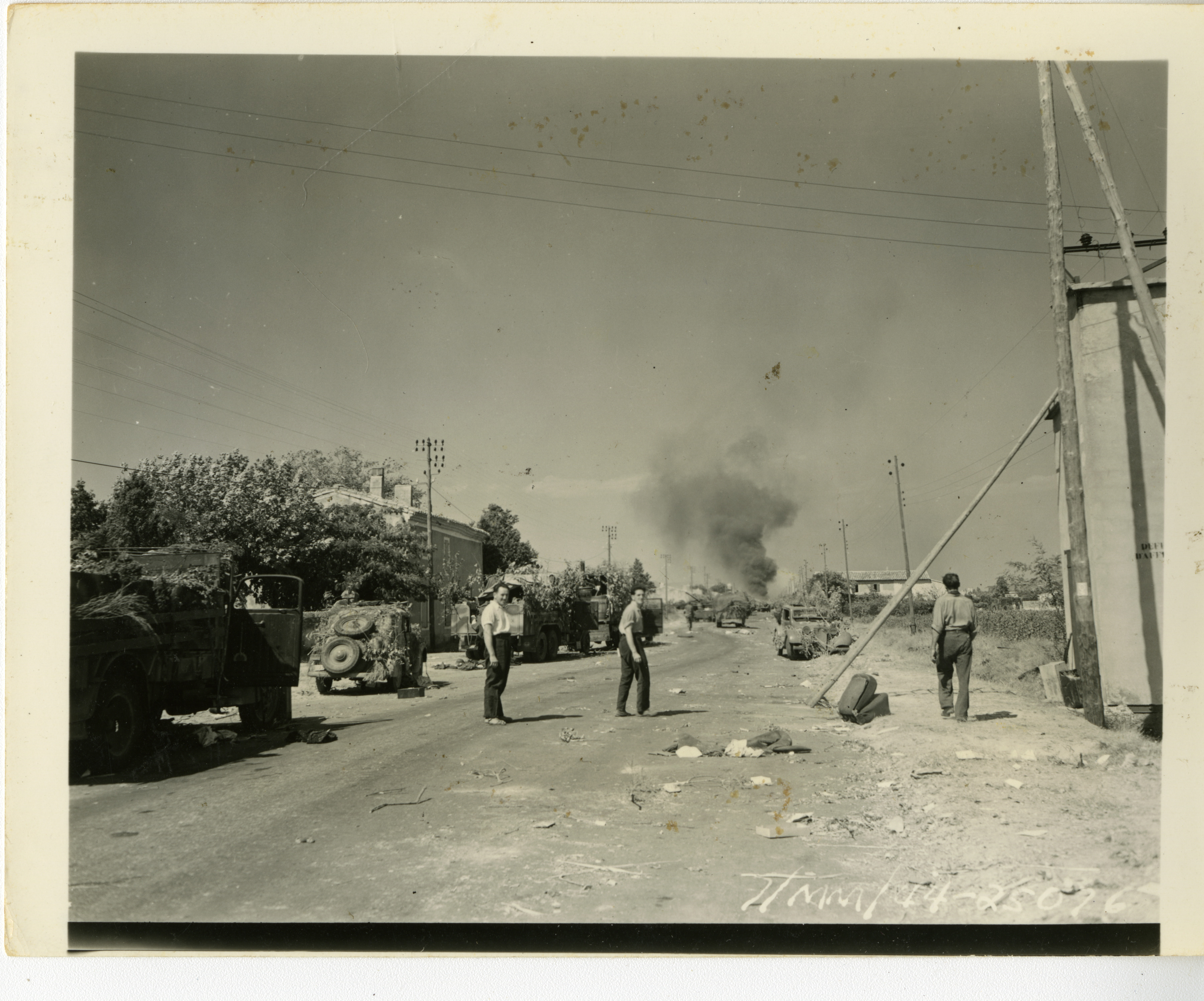 Gift in Memory of G.T. Hennings
Description:
Photograph. Three French civilians walking down a dirt road lined with destroyed German military vehicles. Official caption on front:
"7/MM/44-25076." Secret classification stamp on reverse. Official caption taped to reverse: "28 Aug 1944 7/MM-44-25076
Seventh Army, France / German convoy, approx. 400 vehicles which was destroyed by the 1st Bn. 15th Inf. and cannon co., 15th Inf. Regt., both with the 3rd Div. These vehicles were caught by mortars and small arms fire on the outskirts of Montelimar, France.
Photo by Cuca. / 163rd Sig. Photo Co." Montelimar, France. 28 August 1944
Image Information
Collection Level:
Items from the service of Staff Sergeant Gerald Hennings, who served in the 3rd Infantry Division in the European Theater of Operations. Gerald Thomas "G.T." Hennings was born on 22 March 1920 in Chicago, Illinois. He was residing in St. Louis, Missouri, when he enlisted in the United States Army circa 1941. He was assigned to the 3rd Infantry Division and participated in the Battle of Anzio as well as the campaigns through France and Germany. After returning to the United States, Hennings moved to New Orleans and remained there until his death on 29 January 2010. The collection consists of souvenirs that Hennings collected while in Europe. These souvenirs include a knife, armband, tablecloth, shot glass, two unit history books, and Army Signal Corps photographs.
Thesaurus for Graphic Materials:
World War, 1939-1945--Destruction and pillage--France
Military vehicles--German--France