Japanese delegation arriving in Manila, Philippines, August 1945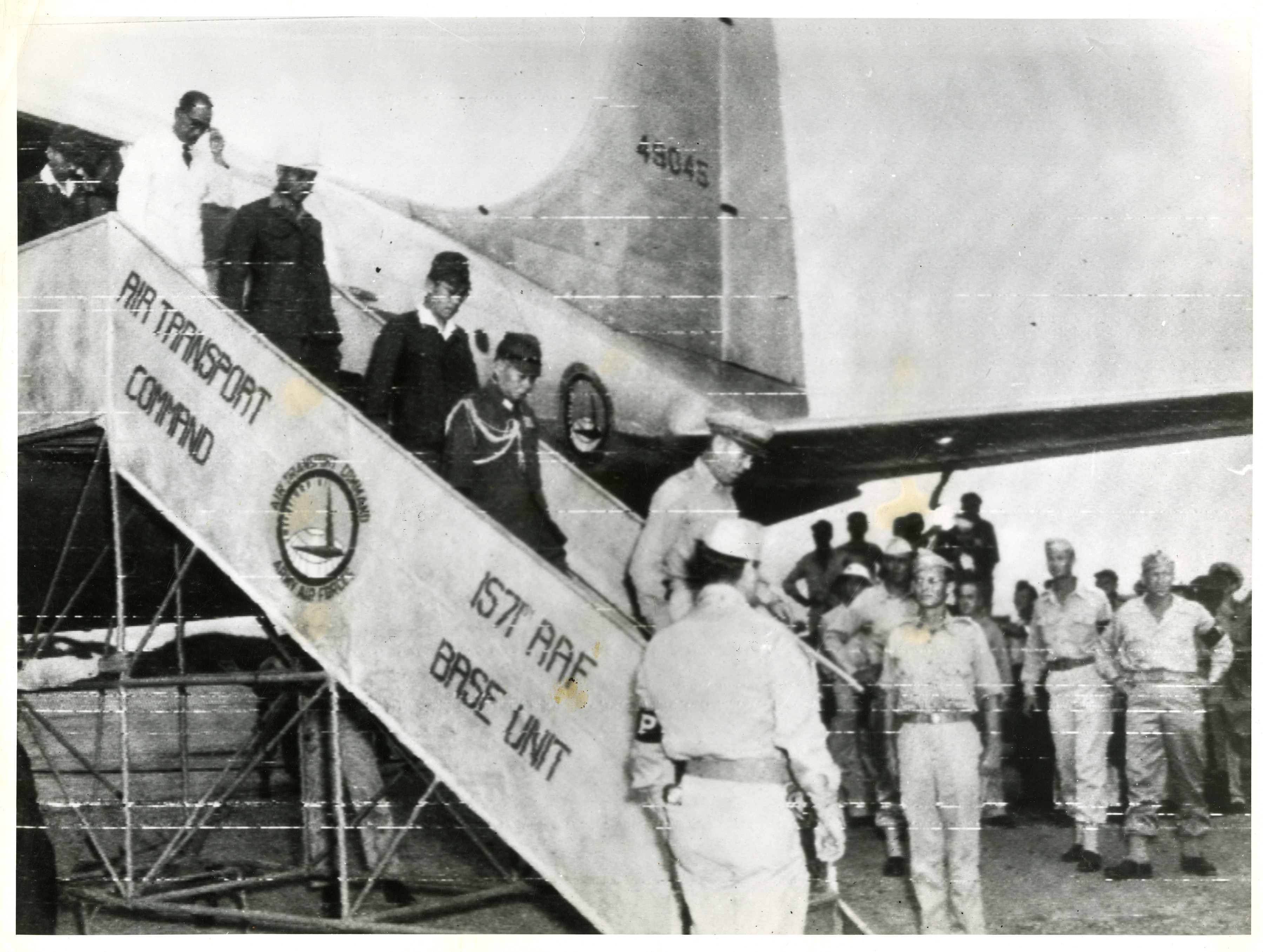 Description:
Photograph. Members of Japanese surrender delegation walking out of U.S. transport plane; U.S. soldiers visible near plane. Official Caption: "Rome. 8/29/45. Japanese surrender delegation arrives in Manila. Preceded by an American officer, members of the sixteen-man Japanese surrender delegation file out of a U.S. transport plane on their arrival in Manila from Ie Shima on Aug. 19, 1945. The Japanese officer leading his party is Lt. Gen. Torashiro Kawabe, Vice Chief of the Japanese Imperial General Staff. The staff of U.S. General of the Army Douglas MacArthur, Allied Supreme Commander, sped preliminary talks to assure a quick cessation of all hostilities and arrange an early signing of the surrender terms. On Aug. 14, President Truman announced the unconditional surrender of the Japanese. This is a radio photo sent from Manila to the U.S. Photo through U. S. I. S. Rome. 43547-FA. Approved by appropriate military authority (D List Out)." Manila, Philippines. 19 August 1945
Image Information
Collection Level:
Items from the service of Isaac "Ike" Bethel Utley, who was born in Smith Mills, Kentucky on 3 March 1920. Ike enlisted in the Army Air Corps on 19 January 1942. He was shipped overseas to the European Theatre and worked with a supply division based out of the city of Naples with an office set up in a residential villa. Utley worked with the Office of War Information and used their photographs in news articles to inform soldiers of the progress of the war. At war's end, Utley returned stateside. A trunk full of over 800 photographs from the O.W.I. arrived on his doorstep from his office in Italy, sender unknown. This collection consists of those photographs.
Thesaurus for Graphic Materials:
Delegations--Japanese--Philippines
Surrenders--Japanese--Philippines
Meetings--Philippines
Military uniforms--Japanese--Philippines