Portrait of Lewis W. Douglas, adviser to U.S. Major General Lucius D. Clay, 1945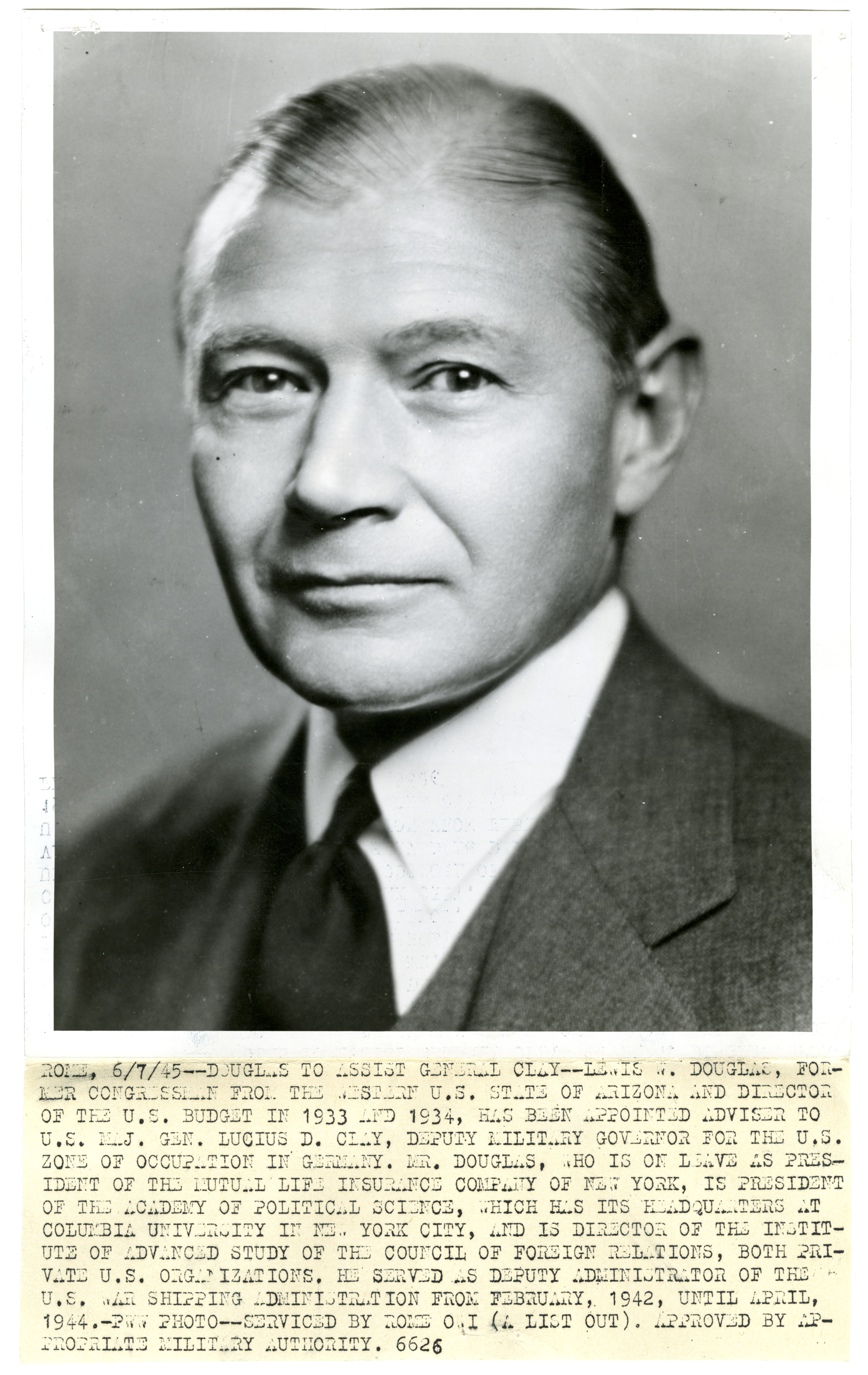 Description:
Photograph, portrait photograph. Lewis W. Douglas, adviser to U.S. Major General Lucius D. Clay. Official Caption: "Rome, 6/7/45--Douglas to Assist General Clay--Lewis W. Douglas, former Congressman from the western U.S. state of Arizona and Director of the U.S. budget in 1933 and 1934, has been appointed adviser to U.S. Maj. Gen. Lucius D. Clay, Deputy Military Governor for the U.S. zone of occupation in Germany. Mr. Douglas, who is on leave as President of the Mutual Life insurance company of New York, is President of the Academy of Political Science, which has its headquarters at Columbia University in New York City, and is Director of the Institute of Advance Study of the Council of Foreign Relations, both private U.S. organizations. He served as Deputy Administrator of the U.S. War Shipping Administration from February, 1942, until April,1944.--PWW photo--Serviced by Rome OWI (A list out). Approved by appropriate military authority. 6626.""Location unknown. 7 June 1945
Image Information
Collection Level:
Items from the service of Isaac "Ike" Bethel Utley, who was born in Smith Mills, Kentucky on 3 March 1920. Ike enlisted in the Army Air Corps on 19 January 1942. He was shipped overseas to the European Theatre and worked with a supply division based out of the city of Naples with an office set up in a residential villa. Utley worked with the Office of War Information and used their photographs in news articles to inform soldiers of the progress of the war. At war's end, Utley returned stateside. A trunk full of over 800 photographs from the O.W.I. arrived on his doorstep from his office in Italy, sender unknown. This collection consists of those photographs.
Thesaurus for Graphic Materials:
Government officials--American
Portrait photographs