Seated studio portrait of a uniformed soldier, Yung Dong Po, Korea, November 1945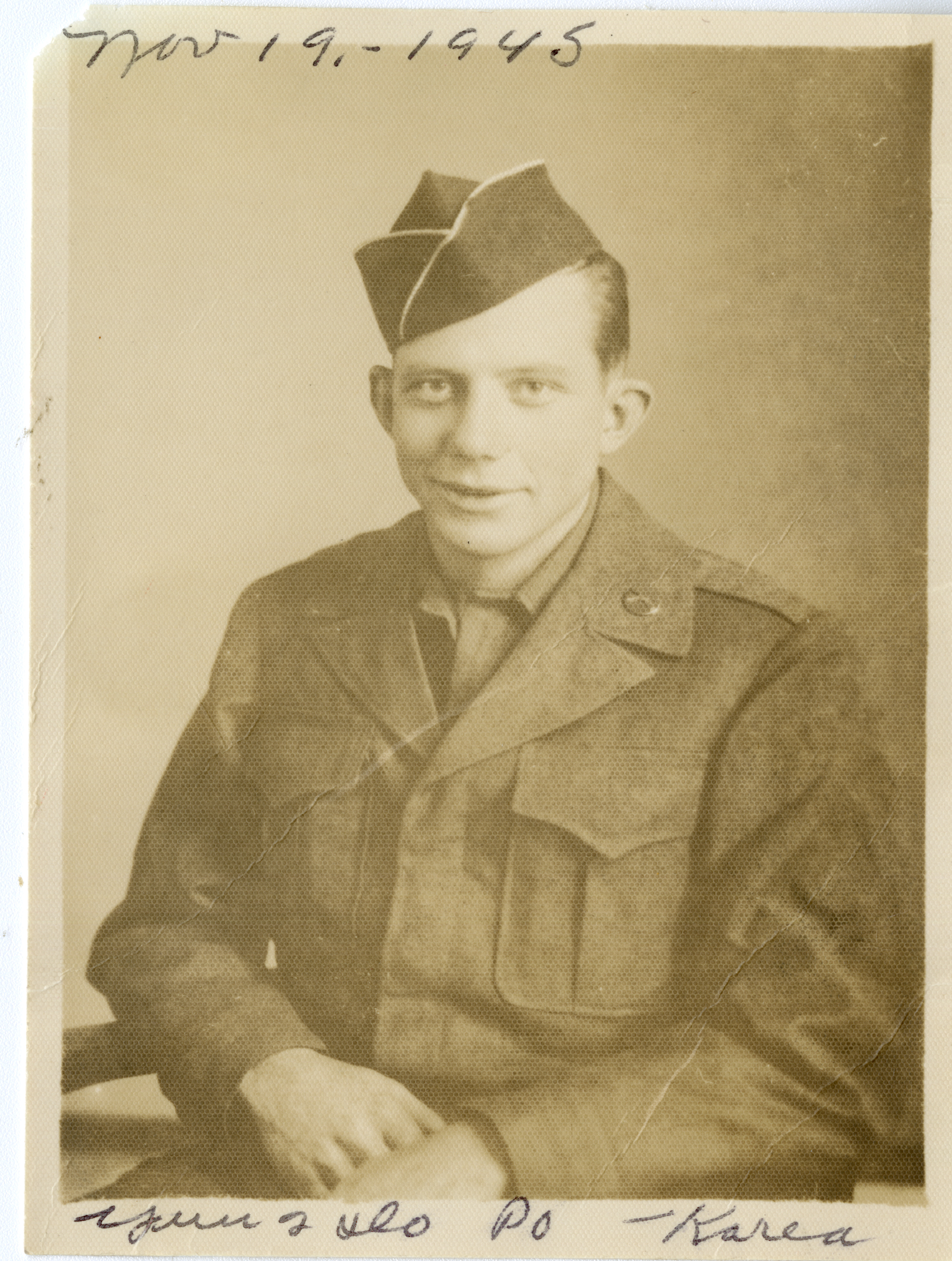 Description:
Photograph, portrait. American soldier wears Ike jacket, seated. Personal caption on photo front: "Nov. 19, -1945. Yung Do Po- Korea" and on photo reverse: "Yung Dung Po, Korea Nov. 19, 1945 To Florence Love Willis." Korea. 19 November 1945
Image Information
Collection Level:
Carl M. Reed (Service Serial # 38565502) was born on 1 December 1915 in Washburn, Missouri. He enlisted in the United States Army on 16 September 1943 at Fort Sill, Oklahoma City, Oklahoma and underwent basic training at Camp Fannin in Tyler, Texas. Reed spent a month at Fort Ord in California and was assigned to the 1305 Engineering Regiment at Fort Stoneman in California in March 1944. He shipped out of San Francisco, California on the Army transport freighter Sea Corporal and arrived in Noumea, New Caledonia on 15 April 1944. He was present at Lunga Beach, Guadalcanal from 20 April to 24 May 1944. He arrived at Espiritu Santo on the Navy hospital ship USS Tryon (APH-1) on 26 May 1944 and later, returned to Noumea on 4 September 1944. Reed left New Caledonia on 28 March 1945 as part of the 10th Army for the invasion of Okinawa arriving on 1 May 1945. Reed was on Okinawa when the war in the Pacific ended. Reed left Okinawa for Korea on 16 September 1945 on LST 717, and left Korea for Los Angeles, California that same month. At Guadalcanal, part of his regiment was broken out to form the 1395th Engineer Construction Battalion. Upon his Honorable Discharge on 17 February 1946 at Fort Leavenworth, Kansas, Reed had attained the rank of Technician Fifth Grade. After his military service Reed worked and retired as a store manager with TG&Y in Wichita, Kansas. He passed away on 9 March 1990 and was buried at White Chapel Memorial Gardens in Wichita, Kansas. The collection, which was originally housed as an album, consists of ephemera and over 130 photographs from Reed's service in Okinawa, Korea and Guadalcanal.