Seven jazz musicians perform on stage during a USO show, Philippines, 1945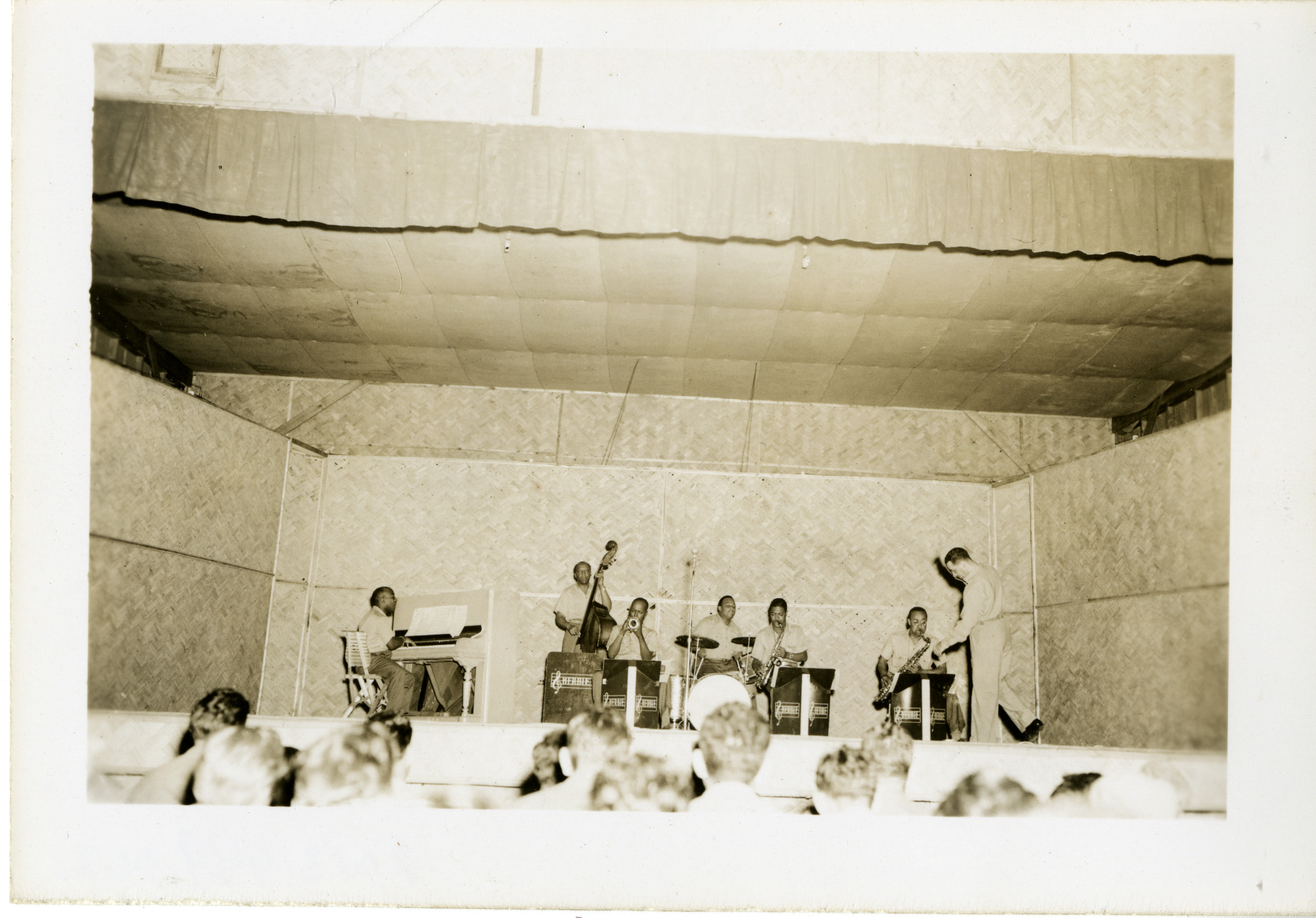 Description:
Photograph. Seven jazz musicians perform on stage during a USO show. Personal caption on photo reverse: "USO show." Philippines. 1945
Image Information
Collection Level:
Louis Zorko Jr. was born in Chicago, Illinois on 19 July 1924 and graduated from Harrison High School and enlisted in the U.S. Army in 1943 in Chicago. After a request to be assigned with the U.S. Air Force was declined (he had trouble with the test due to his reading speed), Zorko was assigned to the Infantry and assumed that he could transfer to the Air Force at a later date. Zorko completed Basic Training at Camp Rucker, Alabama and Ordinance Training in Tennessee. During WWII he was trained in California to use a bulldozer to excavate fox holes on beachfronts for incoming troops. During training it was implied that his unit was to be deployed to the Pacific Theater but upon completion of training they were put on trains and shipped to Massachusetts where they boarded transports for Le Havre. They landed after the initial D-Day invasions and faced virtually no opposition until they reached the Rhine near Cologne. Upon VE Day he was shipped back to the United States and ended up in California learning how to land on a beach. He was subsequently deployed to the Philippines on Luzon with Company H of the 86th Infantry Regiment but the Japanese surrender occurred relatively soon upon his landing. At this point Zorko was one of thousands of soldiers in the Philippines waiting to be transferred back to the United States. With hopes of occupying their time and keeping the troops out of trouble, the military distributed recreational equipment to the troops. Zorko was given a camera (a Speed Graphic) and a few friends built him a darkroom. He employed his photography skills to documenting the local population as well as his fellow soldiers relaxing at a camp near Angeles on Luzon. When Louis exited the Army he found work in advertising working for an engraving department in a printing company (R.R. Donnelly and Company) utilizing the photography skills he learned in the military. Mr. Zorko later worked in the real estate field as well as the art field, retiring in 1990. This collection contains over 140 photographs and a Kodak photo paper box. Louis's brother William Zorko (90 years old at the time of this conversation) also served with a U.S. Army Tank Battalion. The collection consists of 143 photographs taken by Mr. Zorko during his time in the Philippines and in Germany. The photographs feature soldiers relaxing at various bars and nightclubs as well as enjoying recreational activities such as baseball and attending USO shows. In addition there are photographs of the local populations and locations as well as Japanese prisoners of war.
Thesaurus for Graphic Materials:
Entertainers
Jazz musicians--American--Philippines