Soldiers during winter training, Fort Sill, 1944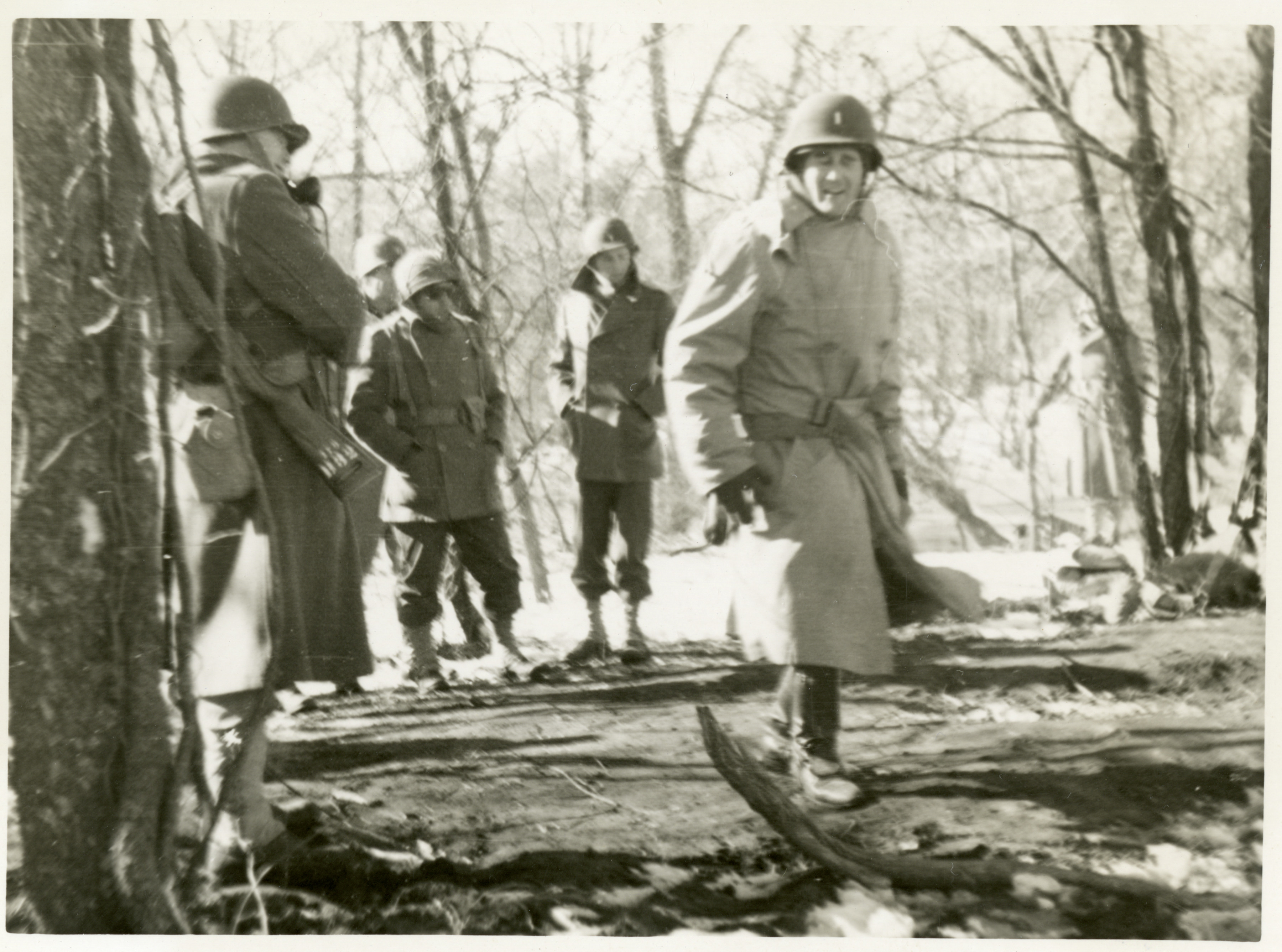 Description:
Photograph. Group of soldiers in winter coats standing in a wooded area; Lieutenant Neimeyer is walking by the soldiers. Personal caption on reverse: "Lt. Neimeyer / Feb. 1944." Fort Sill, Oklahoma. February 1944
Image Information
Collection Level:
Items from the service of Corporal Hiram Vance Boone, who served in the 612th Field Artillery Battalion (Pack), 5332nd Brigade (Provisional) in the China-India-Burma Theater of Operations. Boone was born on 26 February 1921 in Marion, Virginia. Upon graduating from Marion High School, Boone went to work at a gunpowder company and then on to the Sunflower Ordnance Plant in Lawrence, Kansas, until he was 22, receiving a bonus to join the service on 23 September 1943 and was posted at Fort Sill, Oklahoma, for artillery training where he underwent basic training, working specifically with the 75mm pack howitzer and mules. He would receive additional training at Camp Gruber in Oklahoma as a member of the 612th FAB (known also as the Mars Task Force) and mountain training at Camp Carson. Boone shipped out of New Orleans, Louisiana for a 63 day trip with 300 mules aboard the SS Cyrus bound for Calcutta, India. His unit reached Camp Landis in Northern Burma [modern-day Myanmar] in September of 1944. Boone's personal riding mount, Chick, traveled with him from the beginning of his journey all the way to China. During the war Boone would see service in India, China, and Burma (CBI) participating in four campaigns against the Japanese in Burma. Boone's trusted mount Chick was among several hundred mules that caught the disease surra and had to be put down in China in 1945.He was honorably discharged upon his return to the United States in 1946. Boone returned to Virginia and joined the Virginia Department of State Police, where he worked for 33 years and retired at the rank of Captain. He remained in Virginia until his death on 26 November 2012. The collection includes personal correspondence, photographs, and miscellaneous documents related to Boone's service. The photographs depict Boone's training and his time in the CBI as well as photographs of Boone's brother-in-laws, Winston and Eddie Sutter, both of who also served in the Army. For more items from Boone's service, see collections 2000.200 and 2002.210.
Thesaurus for Graphic Materials:
Soldiers--American--Oklahoma