Two servicemen in a raft use "solar stills" to distill sea water, 1945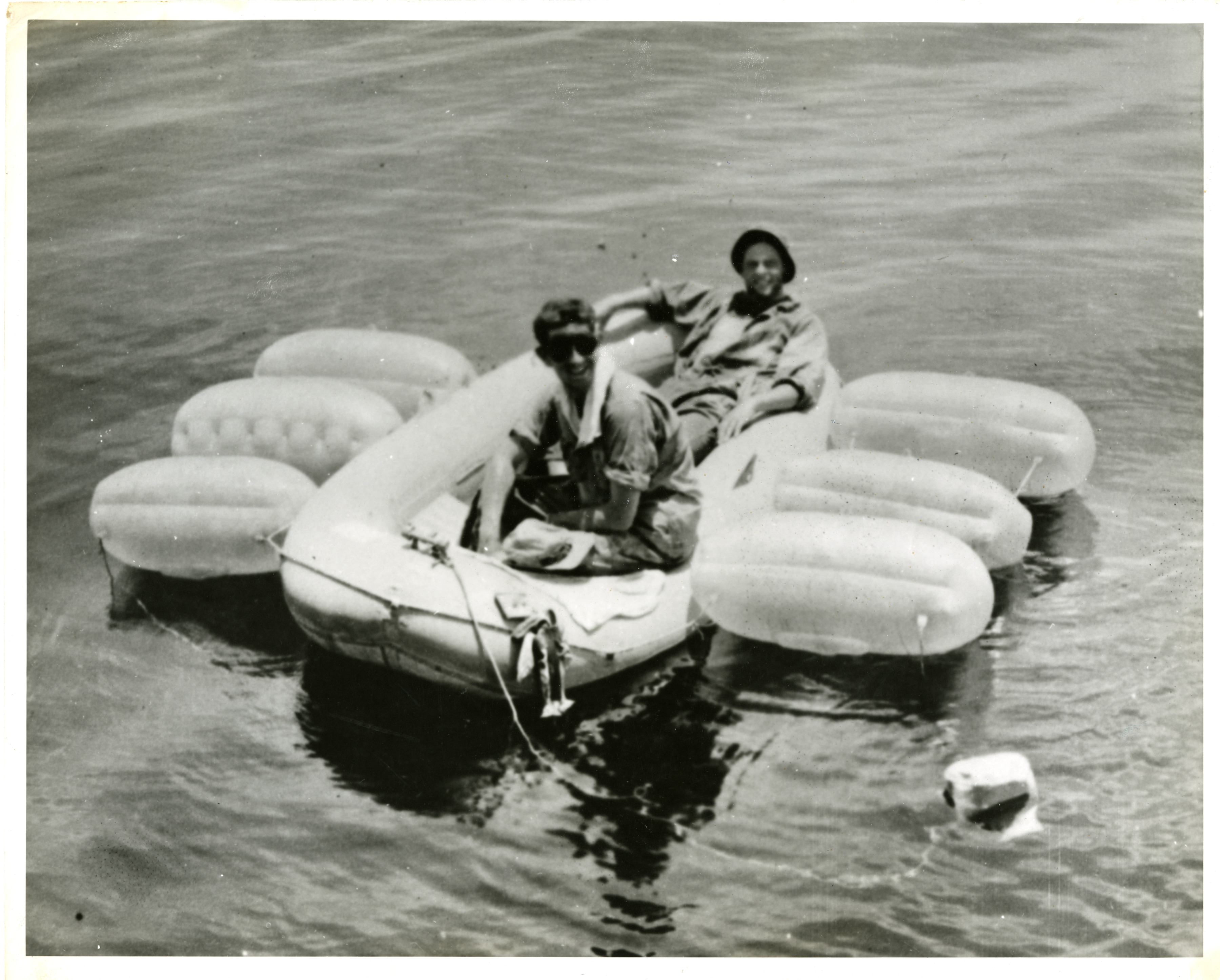 Description:
Photograph. Two servicemen sitting in a raft on water; the raft has balloon-like plastic bags attached to its sides. Official Caption: "(Series of Two) Rome, 6/11/45--Use of 'solar stills'--Here are two pictures illustrating the use of 'solar stills' by 'ditched' airmen. - FA Photos--Serviced by Rome OMI (A list out). Approved by appropriate military authority. -0- The balloons on each side of the life raft are not for buoyancy but for use in distilling drinking water from the sea. Through the use of transparent plastic envelopes, containing black cellulose sponges, the sun's rays distill pure vapor from salt water, leaving the salt in the sponges and providing a pint (a liter) of drinking water in each solar still or balloon. -0- To prepare a solar still for use, the man on the raft pours in two quarts (liters) of sea water before inflating. When the sponge is saturated, he inflates the envelope with lung power and drains excess water from the sponge by tilting the still. The excess sea water washes out salt left from previous use. Then the stills are placed on the water and tied to the raft. Thus they do not take up precious space inside the raft while in use, nor do the balloons need much space in the raft while not inflated. In this picture, men seated in a life raft drink fresh water from the reservoirs at the bottom of the balloons." "6533 T." Location unknown. 11 June 1945
Image Information
Collection Level:
Items from the service of Isaac "Ike" Bethel Utley, who was born in Smith Mills, Kentucky on 3 March 1920. Ike enlisted in the Army Air Corps on 19 January 1942. He was shipped overseas to the European Theatre and worked with a supply division based out of the city of Naples with an office set up in a residential villa. Utley worked with the Office of War Information and used their photographs in news articles to inform soldiers of the progress of the war. At war's end, Utley returned stateside. A trunk full of over 800 photographs from the O.W.I. arrived on his doorstep from his office in Italy, sender unknown. This collection consists of those photographs.
Thesaurus for Graphic Materials:
Rafts--American
Military personnel--American
Saline water conversion
Equipment & supplies