U.S. flag hoisted over Tokyo, Japan, 1945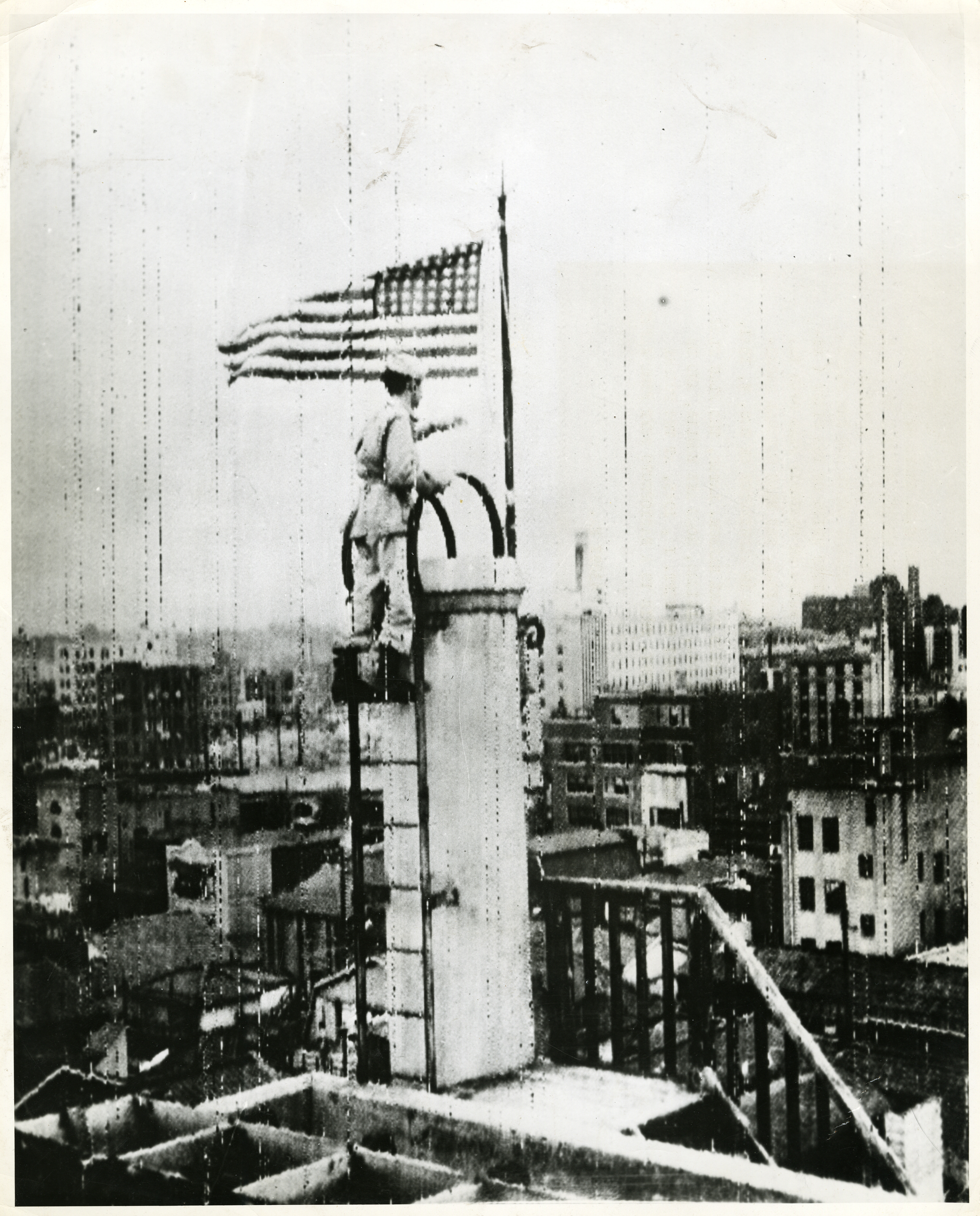 Description:
Photograph. Radiophoto of U.S. Lieutenant Bud Stapleton raising the American flag over Tokyo atop the Nippon News Building; cityscape in background. Official Caption: "Rome. 9/21/1945. U.S. Flag Hoisted over Tokyo. Lieutenant Bud Stapleton of the eastern U.S. state of New York hoists the first U.S. flag to fly over Tokio [sic], capital of Japan, atop the Nippon News Building. U.S. General of the [Army] Douglas MacArthur, Allied Supreme Commander, entered Tokyo for the first time on Sept. 7. 1945, with occupation units of the First (dismounted) Cavalry Division to raise an historic flag over the American Embassy in the enemy capital. The flag General MacArthur raised flew over the capitol in Washington on Dec. 7, 1941, the day the Japanese attacked Pearl Harbor. Later, the flag flew victoriously over Casablanca, Algiers, Rome and Berlin, and on the U.S. Battleship Missouri on Sept. 1, 1945, at the formal Japanese surrender ceremony. This is a radiophoto sent from Japan to the U.S. (D List Out.) 43891 FA. Photo thru U.S.I.S. Rome.""Tokyo, Japan. 21 September 1945
Image Information
Collection Level:
Items from the service of Isaac "Ike" Bethel Utley, who was born in Smith Mills, Kentucky on 3 March 1920. Ike enlisted in the Army Air Corps on 19 January 1942. He was shipped overseas to the European Theatre and worked with a supply division based out of the city of Naples with an office set up in a residential villa. Utley worked with the Office of War Information and used their photographs in news articles to inform soldiers of the progress of the war. At war's end, Utley returned stateside. A trunk full of over 800 photographs from the O.W.I. arrived on his doorstep from his office in Italy, sender unknown. This collection consists of those photographs.
Thesaurus for Graphic Materials: