Wreath laying ceremony on President Roosevelt's grave, Hyde Park, New York, May 1945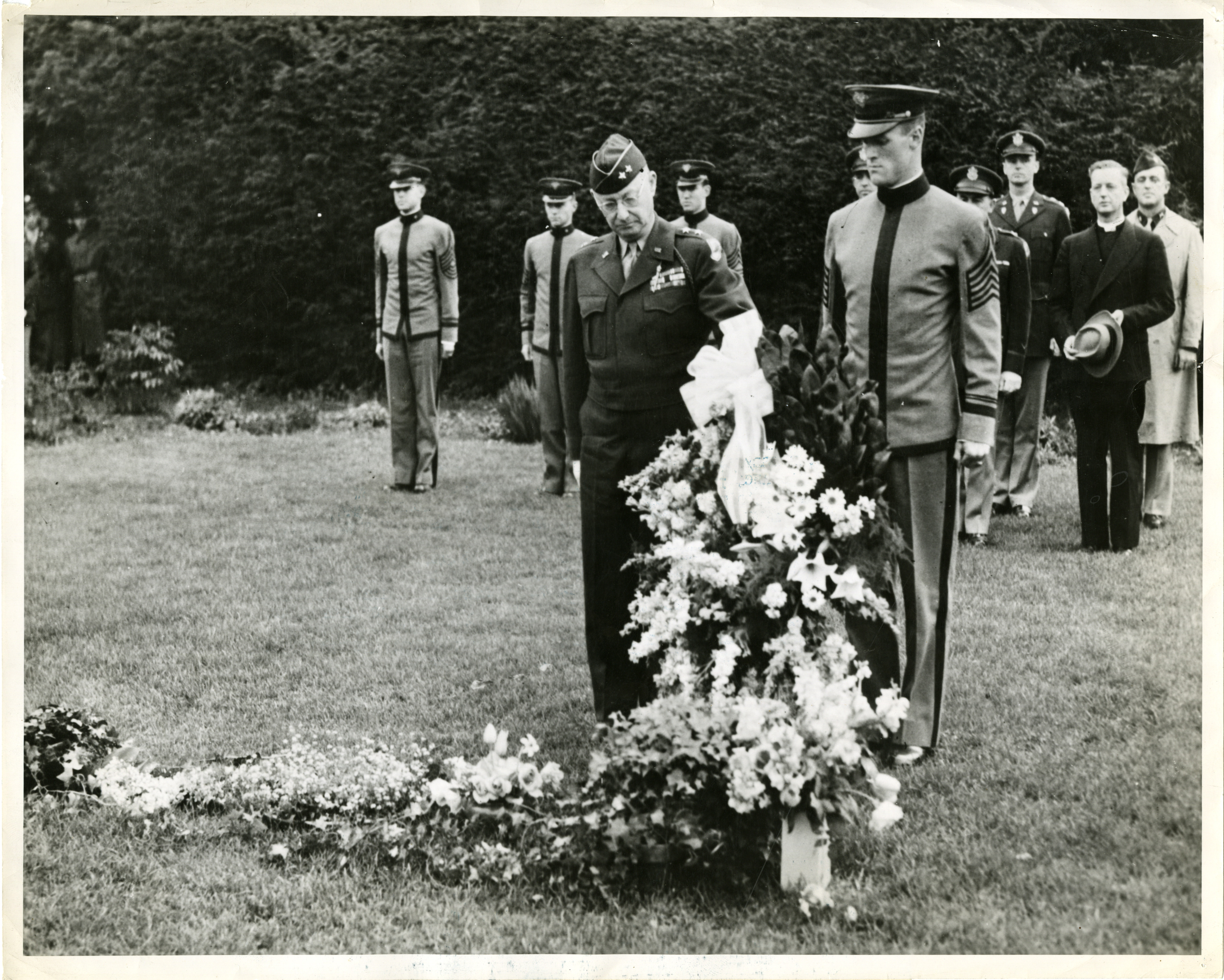 Description:
Photograph. Wreath laying ceremony on President Roosevelt's grave. Official Caption: "Rome, 6/1/45--Truman has wreaths put on Roosevelt's grave--A wreath sent by U.S. President Harry S. Truman is placed on the grave of Franklin D. Roosevelt, late President of the U.S. buried on the grounds of his ancestral home in Hyde Park, N.Y. Maj. Gen. Francis B. Wimby (left), superintendent of the U.S. Military Academy at West Point, N.Y., and first Cadet Capt. Robert Woods of the Academy place the wreath on the grave on May 8, 1945, the day on which Germany's unconditional surrender to the Allies was officially proclaimed. President Truman also had a wreath placed on Roosevelt's grave on Memorial Day, May 30, 1945, the day that dead U.S. heroes all over the world were similarly honored.--PNT photo--Serviced by Rome OWI (A list Out). Approved by appropriate military authority. 6491." Hyde Park, New York. 8 May 1945
Image Information
Collection Level:
Items from the service of Isaac "Ike" Bethel Utley, who was born in Smith Mills, Kentucky on 3 March 1920. Ike enlisted in the Army Air Corps on 19 January 1942. He was shipped overseas to the European Theatre and worked with a supply division based out of the city of Naples with an office set up in a residential villa. Utley worked with the Office of War Information and used their photographs in news articles to inform soldiers of the progress of the war. At war's end, Utley returned stateside. A trunk full of over 800 photographs from the O.W.I. arrived on his doorstep from his office in Italy, sender unknown. This collection consists of those photographs.
Thesaurus for Graphic Materials:
Wreaths--New York
Rites & ceremonies--New York
Military officers--American--New York
Cadets--New York