Young concentration camp prisoner displaying branded identification number, Buchenwald, Germany, May 1945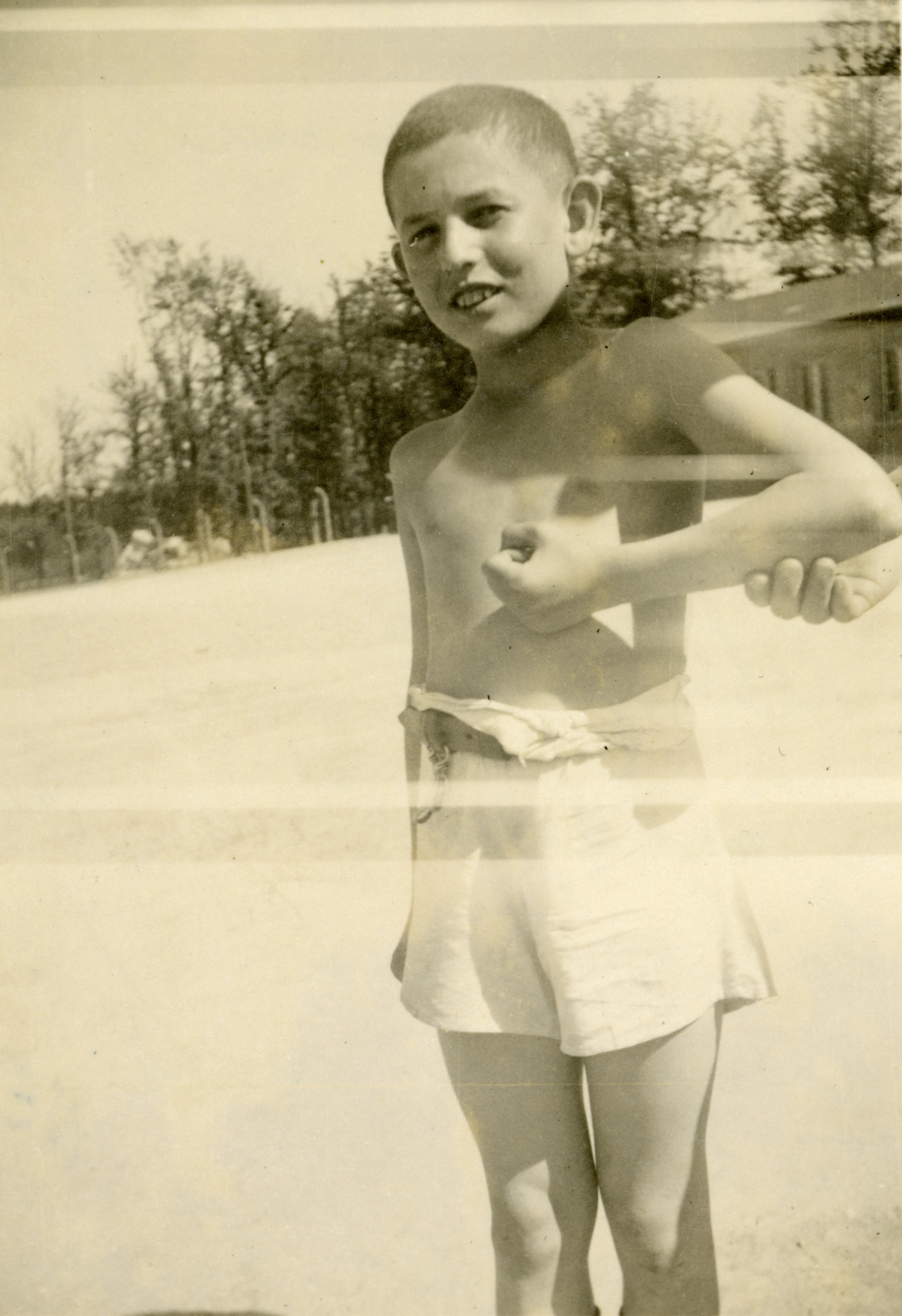 Description:
Photograph. Young concentration camp prisoner displaying branded camp identification number [not visible in photograph]. Personal caption on photo reverse: "This kid was branded on his arm by the Germans. I held his arm while my friend Bob snapped the picture. The brand was 4 numbers. Gave the kid a pack of gum. He was tickled. Buchenwald Prison / Weimar, Germany / May 1945." Buchenwald concentration camp, Weimar, Germany. May 1945
Image Information
Collection Level:
Hamilton M. Neal, Jr. (Mike) was born in Louisiana on 5 August 1924 and was raised in New Orleans, Louisiana. He was inducted into the U.S. Army on 17 May 1943 at the Dryades Market at Dryades and Melpomene Streets in New Orleans, Louisiana. He was stationed at Camp Beauregard, near Alexandria, Louisiana and then at Camp Kohler in Sacramento, California for four weeks Basic Training and a subsequent nine intensive weeks of training in lineman and field switchboard work. Neal shipped out to Camp Reynolds, Greenville, Pennsylvania in the latter part of August of 1943 and then on to Camp Shanks, New York, to board the H.M.S. Cynthia in early October, 1943 for a 12 day crossing to Liverpool, England. He eventually ended up in the small town of Maidenhead where he was assigned to the 35th Signal Construction Battalion. Neal served in the European Theatre and was at Buchenwald shortly after its liberation. Collection includes 100 photographs documenting Neal's service. Neal left England on 4 June 1944 for the coast of France landing the morning of 7 June 1944. He would travel with the First Army to Paris, France then on to the Belgian cities of Brussels, Verviers and Spa. During the German counter-attack in December 1944 the Army pulled back to 20 miles north of Liege, Belgium. Neal was in Weimar, Germany south of Berlin when the war ended and he remained there until June of 1945 where he was transferred to the 90th Signal Operation Company. His company was sent to Marseilles for departure to Manila and the Pacific Campaign. While he was about to go through the Panama Canal, official word came over the radio that the Pacific War was over, and his ship, Marine Panther, was rerouted to New York City, arriving 18 August 1945. He was immediately shipped by train to Camp Kilmer, New Jersey and then to Camp Shelby, Mississippi for separation and Camp Crowder, Missouri, for his discharge on 19 October 1945. In January 1947 Neal married Alma Hoffstadt in New Orleans. He was employed with the Bell System, South Central Bell, for 41 years and 9 months. Starting as a lineman in September 1942 and retiring as an Engineering Manager in May 1984. Neal passed away on 21 August 2013 in Kentwood, Louisiana. The collection consists of 100 photographs from Neal's time at Camp Kohler and his service overseas. Photographs include images from Neal's service in California, Belgium, France, and Germany, as well as Buchenwald concentration camp.
Thesaurus for Graphic Materials:
Concentration camps--Germany
Atrocities--Germany