Pietro Koch, Nazi collaborator, moments before his execution near Rome, Italy, June 1945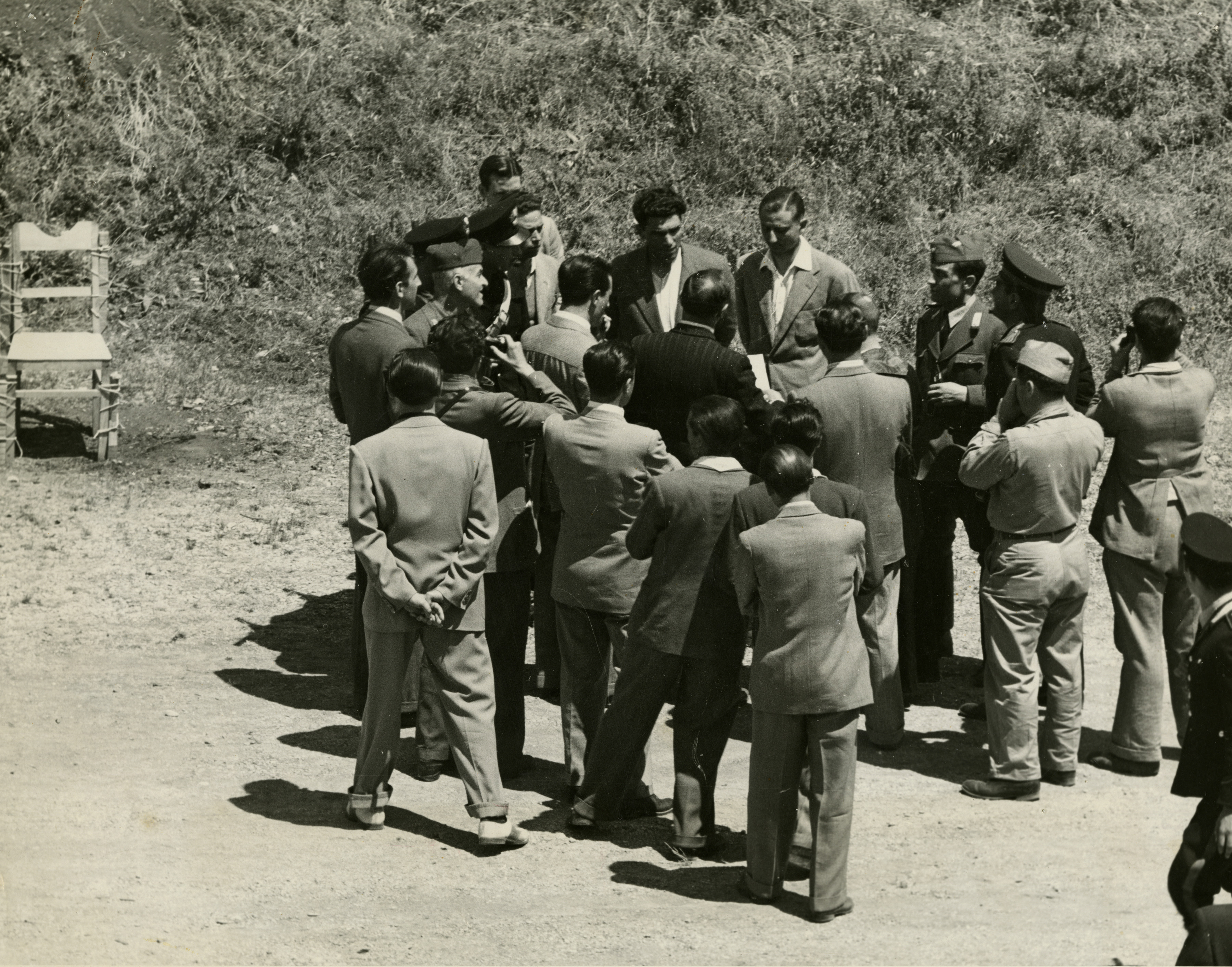 Description:
Photograph. Men (reporters, photographers, and others) gathered around Pietro Koch, Nazi collaborator, moments before his execution. Official Caption: "(Series of seven) Rome 6/5/45--Nazi collaborator is executed--Twenty-five-year old Pietro Koch was shot in the back near Rome, June 5, 1945, after a twenty minute trial in which the high court of justice found him guilty of aiding the enemy during the Nazi occupation of Rome, and the torture and death of Italian patriots. During the brief trial, Koch calmly confessed most of his crimes, among which were the invasion of the extraterritorial basilica of St. Paul and the arrest of some anti-fascist leaders. He admitted that many of his prisoners were beaten and that one of them had 'three or four ribs broken'. The SS collaborator also was accused of supplying the Germans with a list of hostages, later massacred at the Ardeatine Caves, on the outskirts of Rome, and of continuing his activities in North Italy after June 4, 1944, the day Allied troops liberated Rome. He was captured several weeks ago by partisans in Florence where he had been hiding under a false name. Only three witnesses participated in the trial. One, Rome's former Chief of Police, Morazzini, confirmed the accusations against Koch; the second, Commissioner Marottoli, testified that investigations of the Rome police bore out proof of the atrocities perpetrated by Koch's 'band', and the third, Luchino Visconti, a movie director, spoke in Koch's defense but admitted he had witnessed atrocities against Italian patriots perpetrated by Koch. Public prosecutor Granata, after hearing the brief testimonials, demanded the death sentence in the name 'of an Italy which had been betrayed and martyred but which, reborn, cries out that punishment be meted out to Fascist traitors'--OWI staff photos--Serviced by Rome OWI full. Approved by appropriate military authority. -0- Newsmen, photographers and others gather around Koch (slick haired and with open collar) a few moments before the execution. The death chair, at left, has been firmly roped to the ground. 6589 A." Near Rome, Italy. 5 June 1945
Image Information
Collection Level:
Items from the service of Isaac "Ike" Bethel Utley, who was born in Smith Mills, Kentucky on 3 March 1920. Ike enlisted in the Army Air Corps on 19 January 1942. He was shipped overseas to the European Theatre and worked with a supply division based out of the city of Naples with an office set up in a residential villa. Utley worked with the Office of War Information and used their photographs in news articles to inform soldiers of the progress of the war. At war's end, Utley returned stateside. A trunk full of over 800 photographs from the O.W.I. arrived on his doorstep from his office in Italy, sender unknown. This collection consists of those photographs.
Thesaurus for Graphic Materials:
Executions--Italy
Nazis--Italy
Reporters--Italy