US Army soldiers eating next to a soap factory, Stolberg, 1945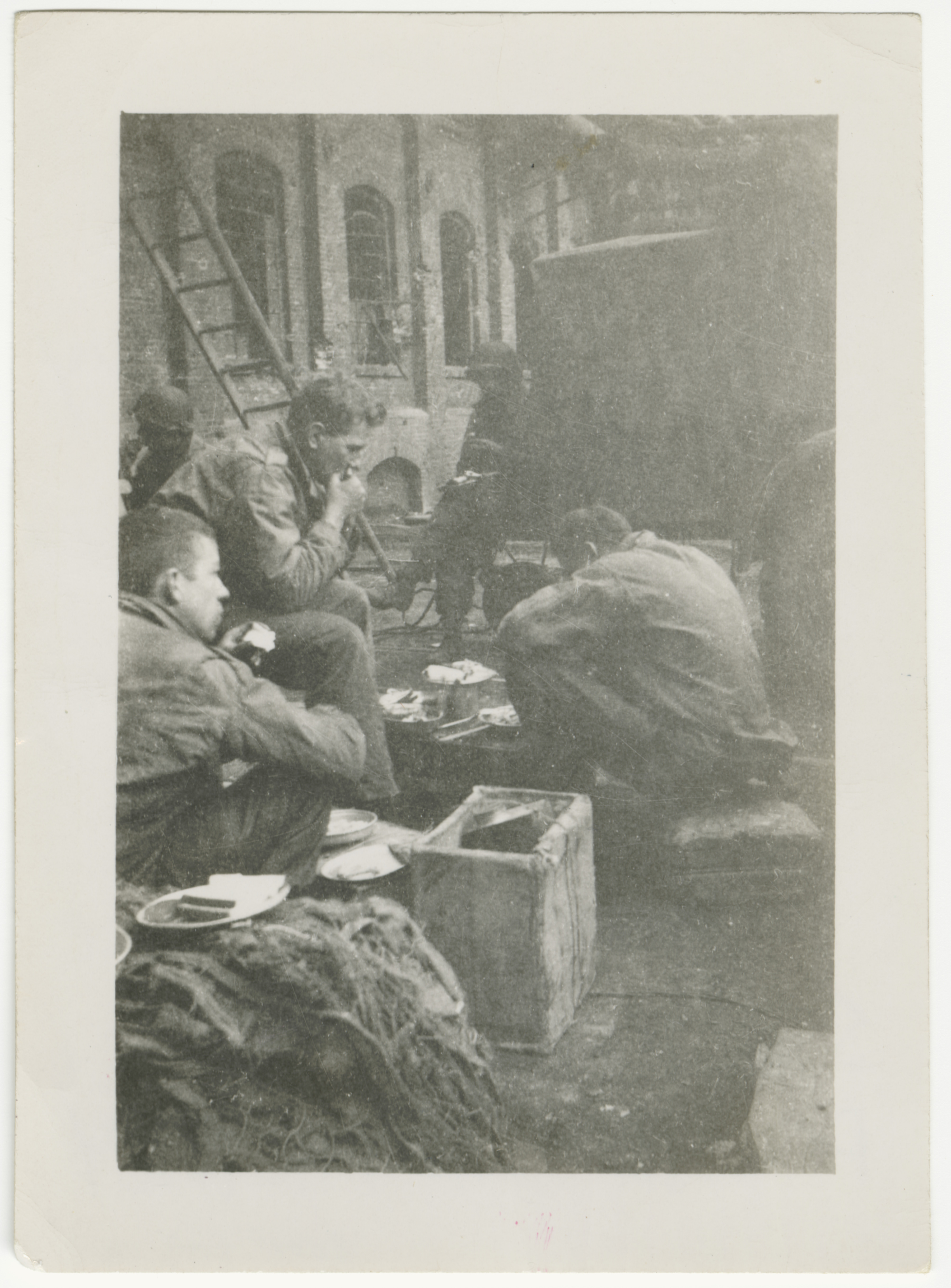 Gift of James J. O'Connell Sr.
Description:
Photograph. Three US Army soldiers sitting on suitcases and boxes while eating outdoors next to a factory building; two other soldiers are eating in the background. Personal caption on reverse: "March 1945, near Eschweiler, Germany / Persil Soap Factory at Stolberg, Germany before Cologne. Dobbs, O'Connell, Pierce / Stolberg-Persil Soap Factory." Stolberg, Germany. March 1945
Image Information
Collection Level:
Items from the service of Staff Sergeant James O'Connell, who was a part of a tank crew in the 786th Tank Battalion, 395th Infantry Regiment, 99th Infantry Division, Third Army in the European Theater of Operations. James Joseph O'Connell Sr. was born on 29 July 1926 in Brooklyn, New York. Shortly after his 18th birthday in 1944, O'Connell registered for the draft and asked to be inducted immediately. He was sent to Fort Dix, New Jersey, for basic training, and was later set to Fort Knox, Kentucky. After training, O'Connell traveled across the Atlantic Ocean on the USS General William Weigel (AP-119) and landed at Le Havre, France, after over a week of travel. He was then assigned to a medium tank crew that transported fuel and supplies for the 786th Tank Battalion. O'Connell spent the bulk of his service in Germany, heading to the Alps around late April 1945. After VE-Day, O'Connell's unit was tasked with preparing their tanks for transportation to Japan. In July, he boarded the USS Wakefield (AP-21) and returned to the United States; however, he was not qualified for discharge until 29 July 1946, his 20th birthday. O'Connell enrolled at Fordham University in 1947 and then New York University for his MBA. He retired from He retired from Herman Miller in 1988 and moved to Holland, Michigan, where he remained until his death on 27 July 2013. The collection includes photographs of O'Connell's time in Germany along with a newspaper clipping regarding the liberation of Moosburg prison camp (Stalag VII-A).
Thesaurus for Graphic Materials:
Soldiers--American--Germany
Eating & drinking--Germany